Cirey is a manufacturer of premium quality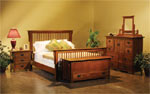 oak and pine furniture. With over 300 products and a proven track record of customer satisfaction, we stand behind our products one hundred percent!
Our manufacturing facilities are located in beautiful Abbotsford, British Columbia, Canada just a short distance from the Canada/USA border in Washington State. We ship to retail locations all over the world with our major markets being in the USA, Germany and Japan.
We are confident that you will be satisfied with our quality line of solid wood furniture and accessories. Please contact us for more information.
Our philosophy is eloquently embodied in the words of Chief Seattle, "All things are connected, whatever befalls the earth befalls the children of the earth."
Cirey is Eco-friendly
---
FSC Certified Wood: Cirey buys most of their wood from the mills of FSC, therefore making Cirey's furniture mostly FSC certified.

No Natural Gas: Cirey is powered by electricity, which is not as detrimental as natural sources of gas.

Enviro-Laquer: Enviro-laquer, which is used by Cirey, is applied solvent free of with a low solvent level.

Sawdust: By using sawdust as bedding, it absorbs the natural gasses produced by animals and therefore prevents it from being released into the environment and water table. Cirey gives 250,000 lbs of sawdust to farmers a year.